South Dakota Pheasant Hunts
Platte, South Dakota
Fall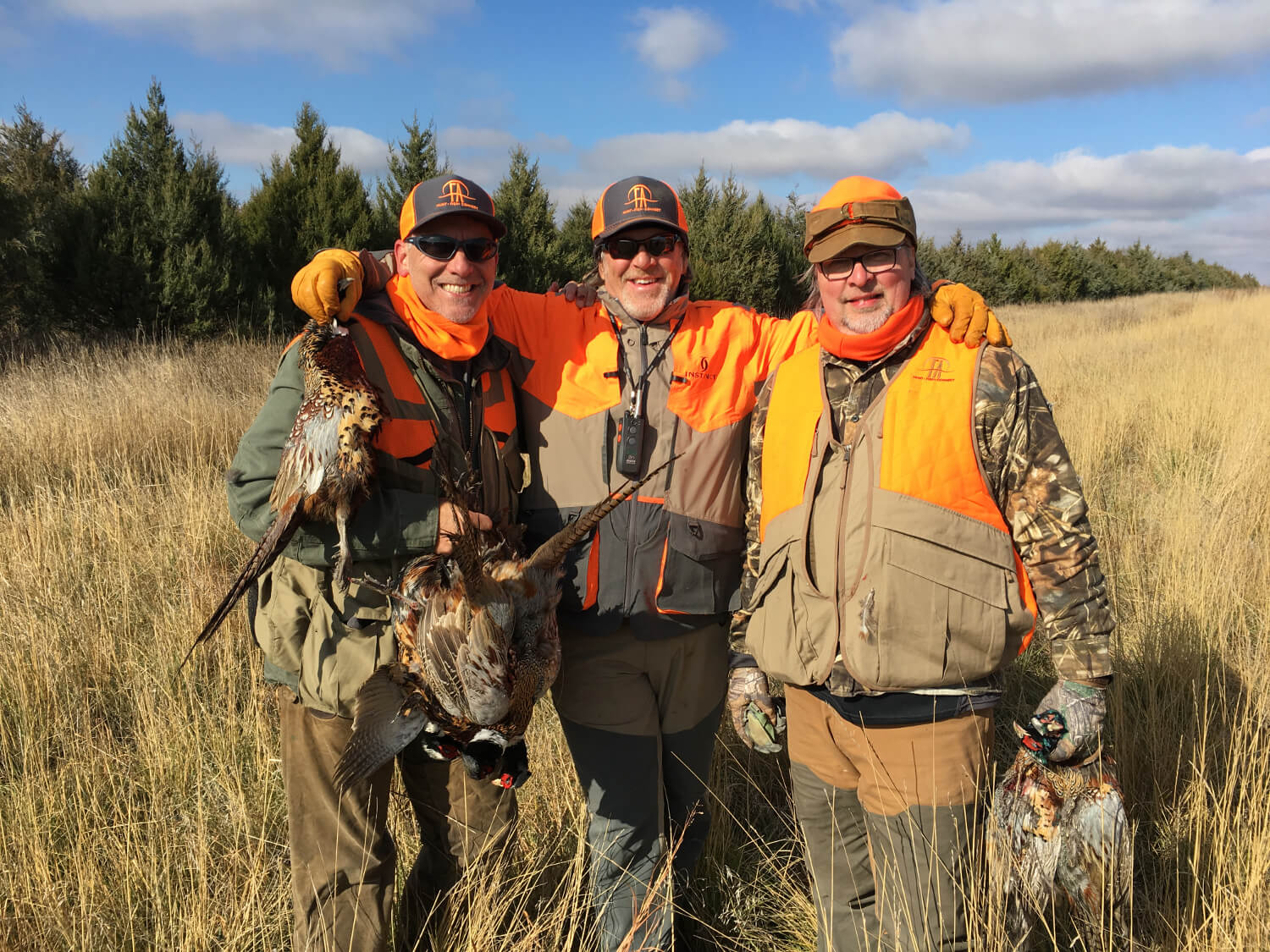 I find it difficult to adequately capture in words my gratitude for the enormity of what Geoff has so deftly but skillfully put together with Fellowship Adventures. What continues to come to mind as the best way to describe it is that it's what the old Celtic Christians used to call a "thin place"—places where the door between this world and the next is cracked open and, for a moment, the light isn't all on the other side... They all work so hard to make everything as easy and seamless as possible for those who are there—and in the process their hearts—and God's grace and goodness—come through.
Rooster !!
Come experience a world class pheasant hunting experience in an intimate Christian environment. Alongside expert guides and behind amazing dogs you will hunt food plots, shelter belts and crop fields in search of one the great hunting experiences, the flush of a South Dakota rooster.
Our lodge rest in the heart of South Dakota's wild pheasant country. Experience the pleasure of small, private group hunting on thousands of acres of unmatched habitat. There are only a few places in the world where climate, food supply and cover converge to create the ideal environment for these beautiful birds.
The pheasant hunting with Fellowship Adventures is in a word - Amazing!
It starts with our location. The lodge is located in heart of South Dakota pheasant country which is home to the richest natural habitat of wild Pheasants in North America. Combine this amazing location with our experienced guides and world class hunting dogs and you have the recipe for the hunt of a lifetime.
And while the hunting will be outstanding, we want your week at the lodge to be about much more than our time in the fields. Our goal is to create an environment where you can unplug from your daily routine and find rest, relaxation and rejuvenation. So from the moment you step foot into the lodge we've designed everything we do with this goal in mind.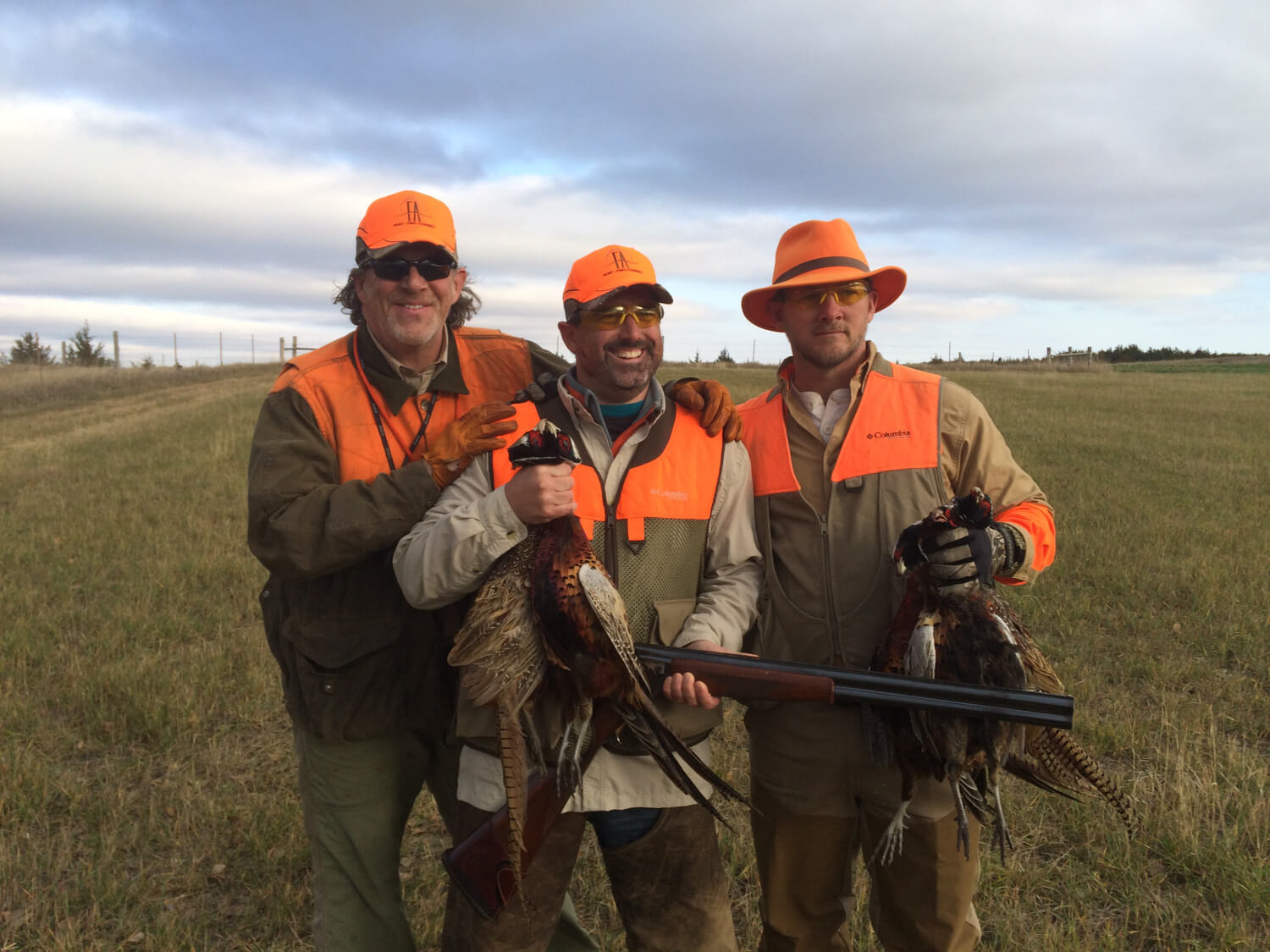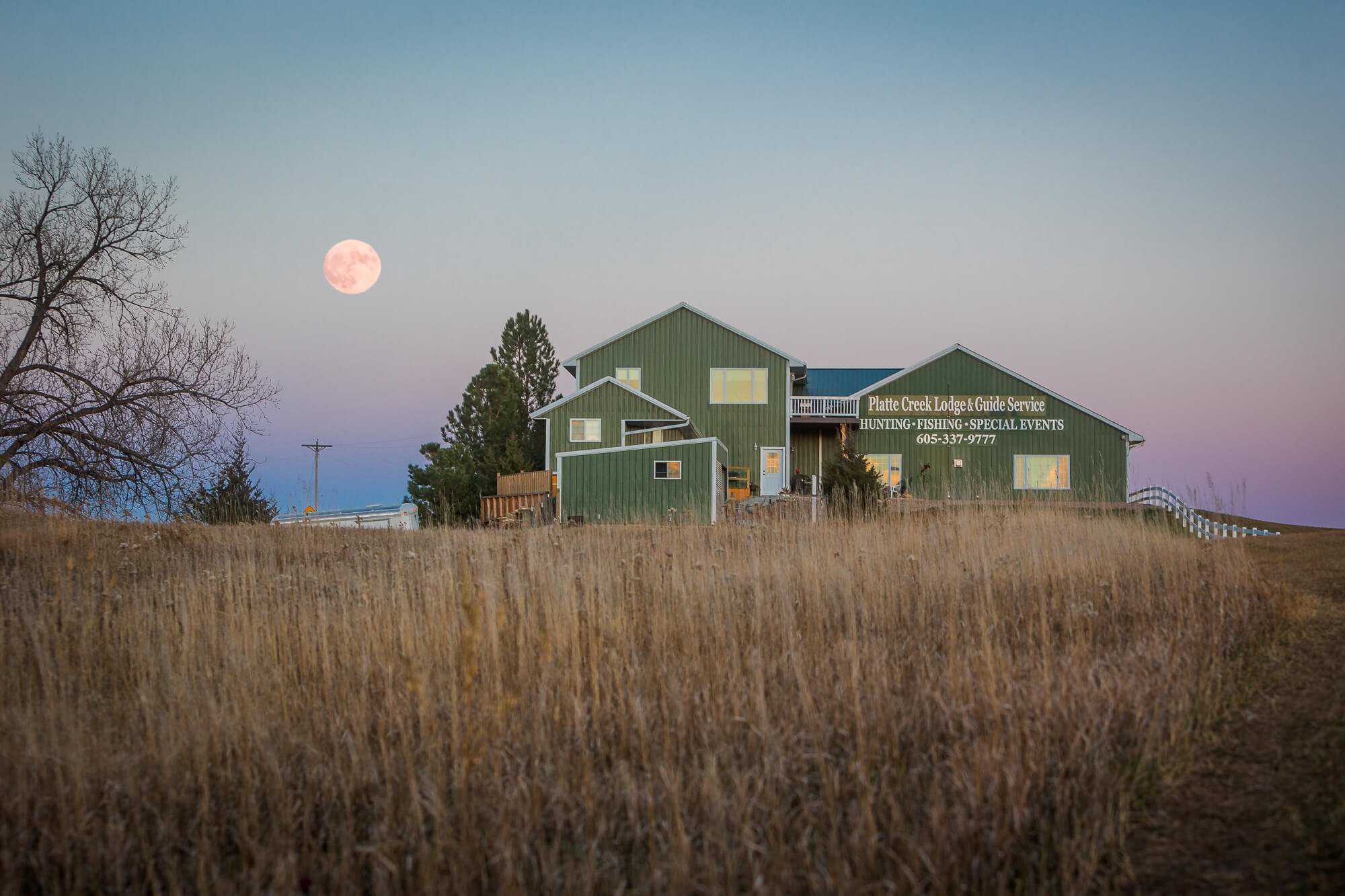 Our Lodge
Designed and built purposefully for hosting small groups of hunters, our lodge is your destination for relaxation. We're a short two hour drive from Sioux Falls. We'll make a stop at Cabelas for any last minute provisions before arriving at the lodge in time to get settled in and enjoy our first evening meal together.
The accommodations are both comfortable and private. Most suites feature a private bath and all feature plush, lodge decor. While we strongly encourage our guests to 'unplug and disconnect', there is high speed wi-fi throughout the lodge. We believe we've created the perfect environment to rest and relax. From the beautiful wildlife mounts that adorn the walls to the comfortable suites to the "outdoor channel intensive" high def satellite media center, we know you'll agree this is the perfect place to unwind.
One of the many ways our approach to running our hunting lodge is different from other high end upland game lodges is the food. We only serve the finest beef, pork, farm fresh vegetables and homemade soups and sweets – including portions large enough to satisfy even the fiercest appetite. In addition to our three family styled, five star meals, we provide continuous light hors d'oeuvres throughout the day. And our team of culinary experts are happy to accommodate any special meal requests.
Our Hunt
One of the beauties of the South Dakota pheasant season is the opportunity to sleep in a bit and start your day in a relaxed frame of mind without missing any of the action.
We'll enjoy a leisurely big country breakfast around 8a, then it's off to the multi station sporting clays range for a little warm up. We have designed the course to imitate many of the shots you will face in the field. If you're a golfer think of it as a practice range. Once we have eliminated all our excuses for missed birds and had a brief safety review, it's time to hunt. Whether you are a seasoned upland hunter or a first timer we will all work together to make it a great day.
After a short drive to the fields, we're ready to spend the next 2 -3 hours walking countryside that is gentle, rolling prairie, with fields and sky as far as the eye can see. You'll walk across cornfields, native grass rangeland, and millet/forage sorghum strips in search of one the great hunting experiences, the flush of a South Dakota rooster.
At some point during our morning hunt we will return to the lodge for a casual, relaxed lunch of homemade soups and sandwiches. We'll enjoy a little downtime to relive the shots of the morning, adjust our gear and strategy and catch a quick nap.
Then its back out for the afternoon hunt. More walking, laughing and shooting in some of Gods' best country. Finally, we return to the lodge to relax, clean up and embellish stories of legendary hits and misses. Later in the evening it's another great meal together and a night filled with our namesake - great Fellowship.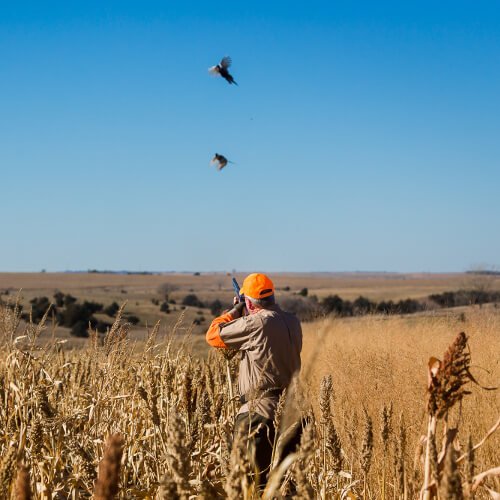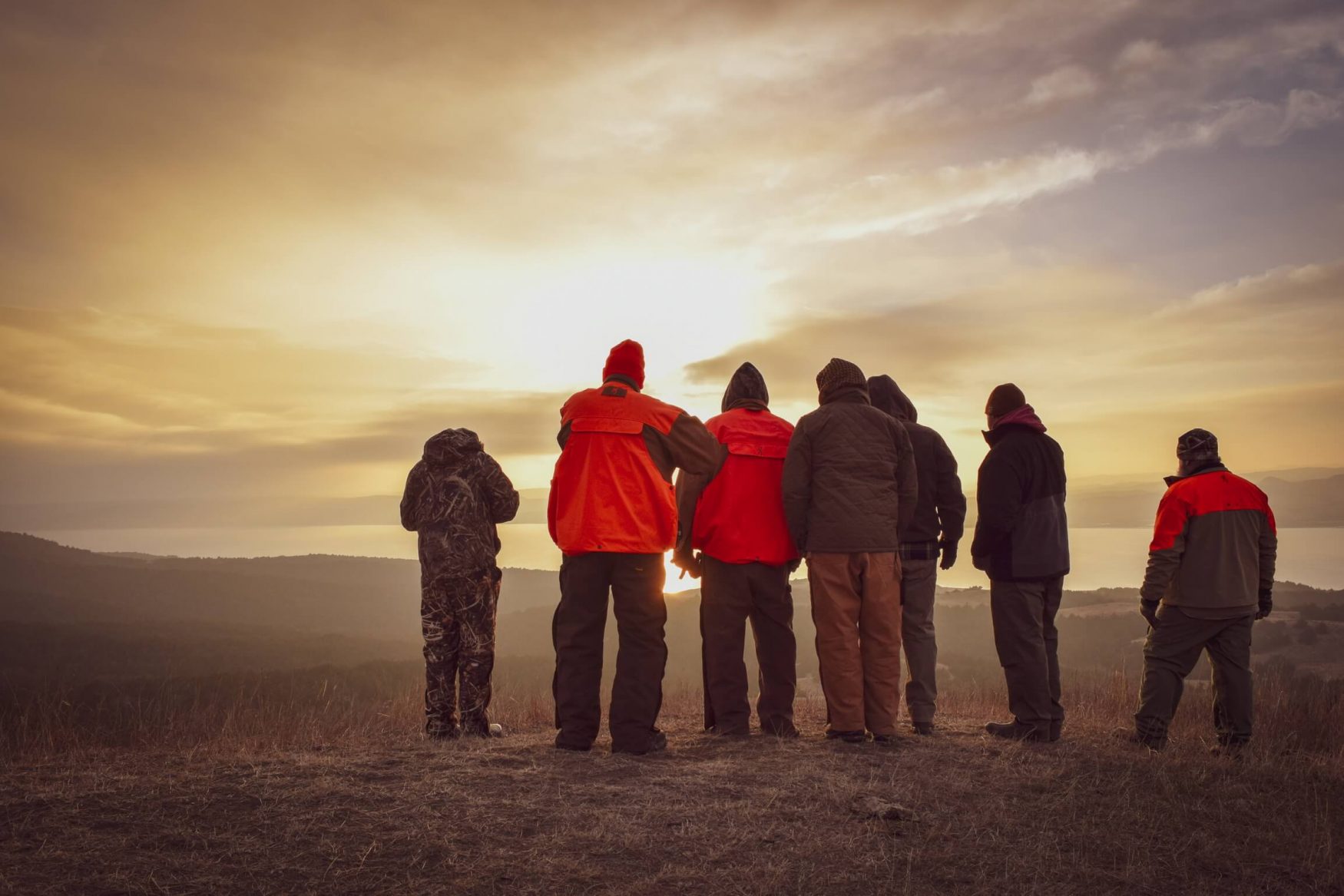 Once your trip is scheduled you'll receive information on deposits, travel, licenses, what to bring, FAQ's and access to a personal concierge to assist you with every facet of your trip.
If we can answer any questions, please contact us.